SUPERHAWK, MARVEMAX, Radial Truck Tire, ECO tire, SmartWay certificate, Popular in American market.
Tire Size: 295/75R22.5, 11R22.5, 11R24.5, 285/75R24.5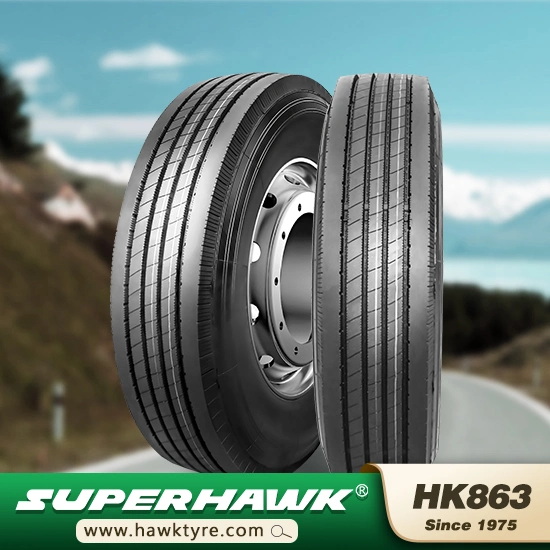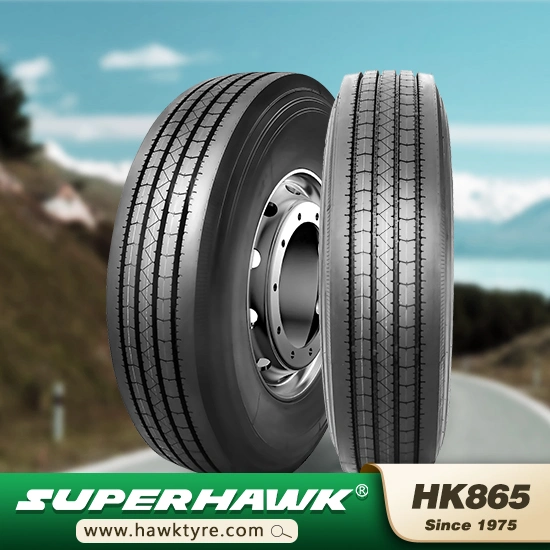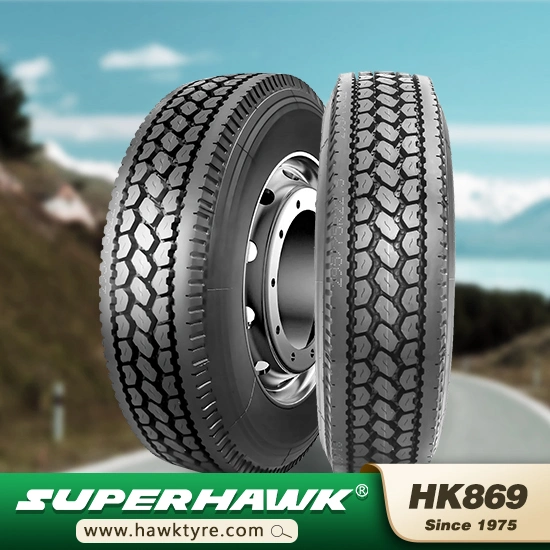 Quality certificates as belows:
GCC, E-MARK, S-MARK, DOT, Soncap, Latu and ISO9001 certifications.
Our Advantages:
1. We promise full tyre waranty and garantee.
2. We provide the most competitive price.
3. We promise the delivery time within 15 days.
4. Supply ability: 1300, 000 PCS/year.
5. More than 200 agents all over the world.
PLZ JUST CONTACT ME, E-MAIL THE INFORMATION/SPECIFICATIONS OF THE TYRES YOU ARE LOOKING FOR, WE'LL CHECK THE BEST OFFER FOR YOU.
Mixed highway and freeway, all position heavy duty rib tyre for on/off highway application.
Special tread compound design for lower heat build-up, excellent puncture and cut resistance and minimized gasoline consumption.
Super steel belt carcass construction enhances casing strength and maxmizes tyre load capacity.
TYRE SIZE
PLY RATING
TREAD PATTERN
TREAD DEPTH
(MM)
RIM SIZE
TUBE TYPE
LOAD
INDEX
SPEED
SYMBOL
DESIGN NEW TYRE(MM)
INFLATION PRESSURE(kPa)
LOAD CAPACITY(kg)
OUTER DIAMETER
SECTION WIDTH
SINGLE
DUAL
SINGLE
DUAL
11R22.5
14PR
MX969
21
8.25
TL
144/142
L
1065
279
720
720
2800
2650
16PR
146/143
830
830
3000
2725
295/75R22.5
14PR
MX969
22
9.00
TL
144/141
K
1020
298
760
760
2800
2575
16PR
146/143
830
830
3000
2725
11R24.5
14PR
MX969
23.8
8.25
TL
146/143
K
1116
279
720
720
3000
2725
16PR
149/146
830
830
3250
3000
285/75R24.5
14PR
MX969
22
8.25
TL
144/141
K
1056
283
760
760
2800
2575
16PR
147/144
830
830
3075
2800