Off Road Tire Trailer Tire Drive Tire Radial Truck Tires 11r22.5
Our Advantage:
Advance Facility and Equipment: major of the machines are from US and Germany;
Good Material: steel cord imported from Italy, natural rubber imported from Malaysia and Thailand;
Adance Technoloy: a strong engineer team who always connect with the newest technology and the changing market.
Competitive price: with more professional technical know-how, we can control the cost better but make sure a super quality. Compare to same price product, we surely have better quality; Compare to same quality product, we have much better price.
Good after sale service: our duty is not only sell tyre but share and develop market with customers. To help our customers and partners to grow quickly, we will offer full scale marketing support. Meanwhile, we have an open idea to any constructive suggestion from customers and partners. And willing to practice if it is necessary.
Most Sincere Communication: we will offer you the most honest and best suggestion for your interests. You will have a much more easy, happy and efficient communication here.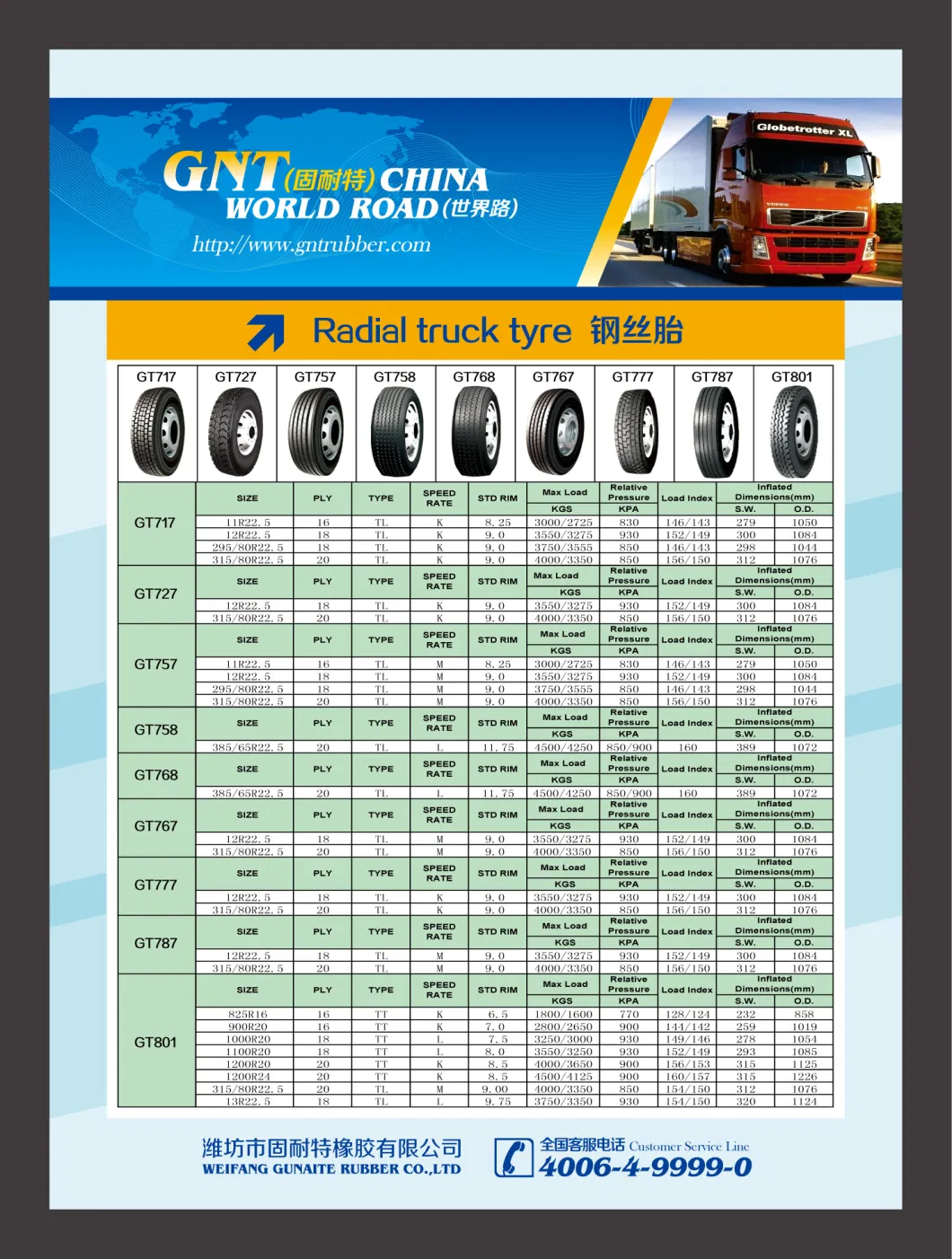 Trailer Pattern:
√.Excellent anti-irregular-wear performance and high mileage
√.Excellent high speed running performance and lower noise emission
√.Four main straight groove design, balanced tread pressure and wear.
√.Longitudinal straight groove design effectively reduces rolling resistance.
Drive Pattern:
√. Rugged tread compound resists tread squirm and heel-toe wear for longer tread life.
√. Solid shoulder ribs distribute weight and torque evenly to fight irregular wear.
√. Stone rejector platforms help prevent retention of damaging stones.
Off Road Tire Trailer Tire Drive Tire Radial Truck Tires 11r22.5
Size
Pattern
Ply Rating
Load Index
Speed Rating
Standing Rim
Tread Depth
Inflated Measurements of new tyre
Pressure (kpa)
Loading QTY
inch
mm
SW.
0D.
Kpa
PSI
40HQ
7.50R16
RBK01
14
122/118
L
6.00G
13.0
215
805
770
-
-
8.25R16
RBK01
16
128/124
K
6.50H
13.0
235
855
770
-
-
RBK68
16
128/124
K
6.50H
14.5
235
855
770
-
-
215/75R17.5
RBK11
14
135/133
J
6.00
12.0
222
761
860
125
-
D801
16
127/124
K
6.00
15.0
211
767
830
-
-
9.00R20
RBK01
16
144/142
K
7.00
15.5
259
1019
900
131
-
10.00R20
RBK01
18
149/146
K
7.50
16.0
278
1054
930
135
280
RBK68
18
149/146
K
7.50
18.0
278
1054
930
-
280
D801
18
149/146
K
7.50
20.0
278
1054
930
-
280
11.00R20
RBK01
18
152/149
K
8.00
16.5
293
1085
930
135
256
RBK03
18PR
152/149
K
8.00
16.5
293
1085
930
135
256
D608
18
152/149
J
8.00
18.5
293
1085
930
-
-
12.00R20
RBK01
20
156/153
K
8.50
17.5
315
1125
900
131
228
D608
20
156/153
J
8.50
19.5
315
1125
900
-
-
11R22.5
RBK11
16
146/143
M
8.25
14.5
279
1052
830
120
270
RBK05
16
146/143
M
8.25
14.5
279
1050
830
120
270
RBK01
16
146/143
M
8.25
14.5
279
1054
830
-
270
D801
16
146/143
K
8.25
20.0
279
1054
830
-
270
RBK88
16
146/143
K
8.25
20.0
279
1050
830
120
270