12.6mm Isolated Oil-Filled Accurate Absolute Gauge Piezoresistive Tank Pressure Sensor MPM283

Features
· Pressure range: 0~700kPa...100MPa
· Gauge, absolute and sealed gauge
· Constant current power supply
· Isolated construction, enable totest measure various media
· Φ 12.6mm compact size OEM pressure sensor
· Stainless steel 316L
· Wider temperature compensation range -10° C~+80° C

Application
· Industrial process control
· Level measurement
· Gas, liquid pressure measurement
· Pressure inspection meter
· Pressure calibrator
· Liquid pressure system and switch
· Cooling equipment and air conditioner
· Aviation and navigation inspection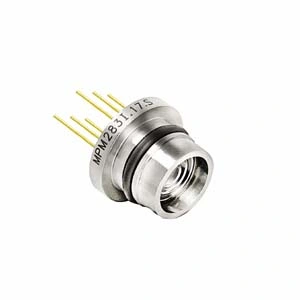 Description
MPM283 piezoresistive pressure sensor is OEM pressure sensor with stainless steel isolated diaphragm, the whole product has integrated construction, high endurance, high stability and good reliability, it can be used specially for middle and high pressure measurement.

The pressure sensor using high accurate and stable pressure die, are produced on the advanced production line. Sensors are tested automatically, and compensated zero and temperature performance.

With identical mounting dimension, the sensors are widely used for chemi-industry, process control, liquid pressure system and switch, etc.

Electric Performance
Power supply: ≤ 2.0mADC; ≤10V DC
Electric connection: Kovar pin or 100mm silicon rubber flexible wires
Common mode voltage output: 50% of input (typ. )
Input impedance: 3kΩ ~8kΩ
Output impedance: 3.5kΩ ~6kΩ
Response (10%~90%): <1ms
Insulated resistor: 100MΩ , 100VDC
Overpressure: 1.5 time FS or 110MPa(min. Value is valid)

Construction Performance
Diaphragm: Stainless steel 316L
Housing: Stainless steel 316L
Pin: Kovar or silicon rubber flexible wires
O-ring: Viton
Net weight: ~8g

Environment Condition
Position effect: Deviate 90° From any orientation, zero change ≤ 0.1%FS
Shock: No change at 10gRMS, (20~2000)Hz
Impact: 100g, 11ms
Media compatibility: The liquid or gas which is compatible with stainless steel and Viton

Basic Condition
Media temperature: (35± 1)° C
Environment temperature: (35± 1)° C
Shock: 0.1g (1m/s/s) Max
Humidity: (50%± 10%)RH
Local air pressure: (86~106)kPa
Power supply: (1.5± 0.0015)mADC
Specification*

Min.

Typ.

Max.

Units

Linearity **

± 0.2

± 0.25

%FS, BFSL

Repeatability

± 0.05

± 0.075

%FS

Hysteresis

± 0.05

± 0.075

%FS

Zero output

± 3

mVDC

FS output

70

mVDC

Zero thermal error

± 0.75

± 1.0

%FS, @35C

Span thermal error

± 0.75

± 1.0

%FS, @35C

Compensated temp. range

-10~80

C

Working temp. range

-40~125

C

Storage temp. range

-40~125

C

Stability

± 0.1

± 0.2

%FS/year


*testing at basic condition:
Media temperature: (35± 1)C
Environment temperature: (35± 1)C
Shock: 0.1g (1m/s/s)
Max Humidity: (50%± 10%)RH
Local air pressure: 986~106)kPa
Power supply: (1.5± 0.0015)mADC
** 100MPa pressure sensor' s linearity: typ. ± 0.30, max. ± 0.35(units ± %FS, BFSL)
Con
nstruction Outline:




Electric Connection: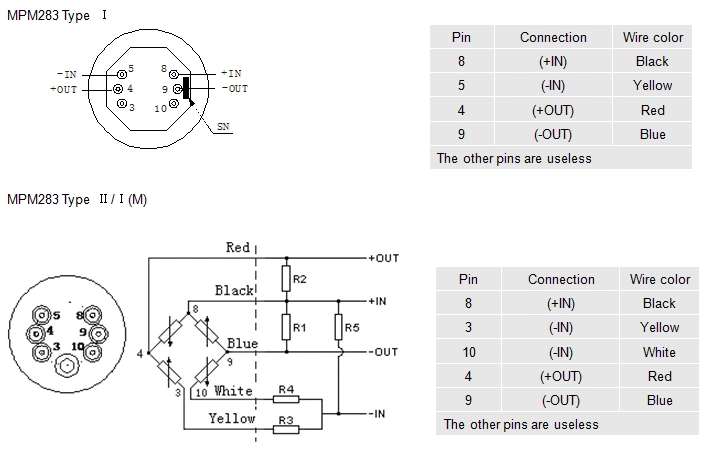 Order Information:
MPM283

Piezoresistive OEM Pressure Sensor

Code

Assembling type

I

with cap Φ16.8 mm

II

Φ12.6×10.5 mm

Range code

Pressure range

Pressure type

09

0~700kPa

G.A

10

0~1000kPa

G.A

12

0~2MPa

G.A

13

0~3.5MPa

G.S.A

14

0~7MPa

S

15

0~10MPa

S

17

0~20MPa

S

18

0~35MPa

S

19

0~70MPa

S

20

0~100MPa

S

Code

Pressure type

G

Gauge

A

Absolute

S

Sealed gauge

Code

Temperature compensated type

L

With lasar trimming compensated circuit borard (only for MPM283 I )

M

Compensated by outer resistors

Code

Electric connection

1

Kovar pin(default)

2*

flexible wire, default length:100mm




MPM283 II 17 S M 2 the whole spec
Certificates We Have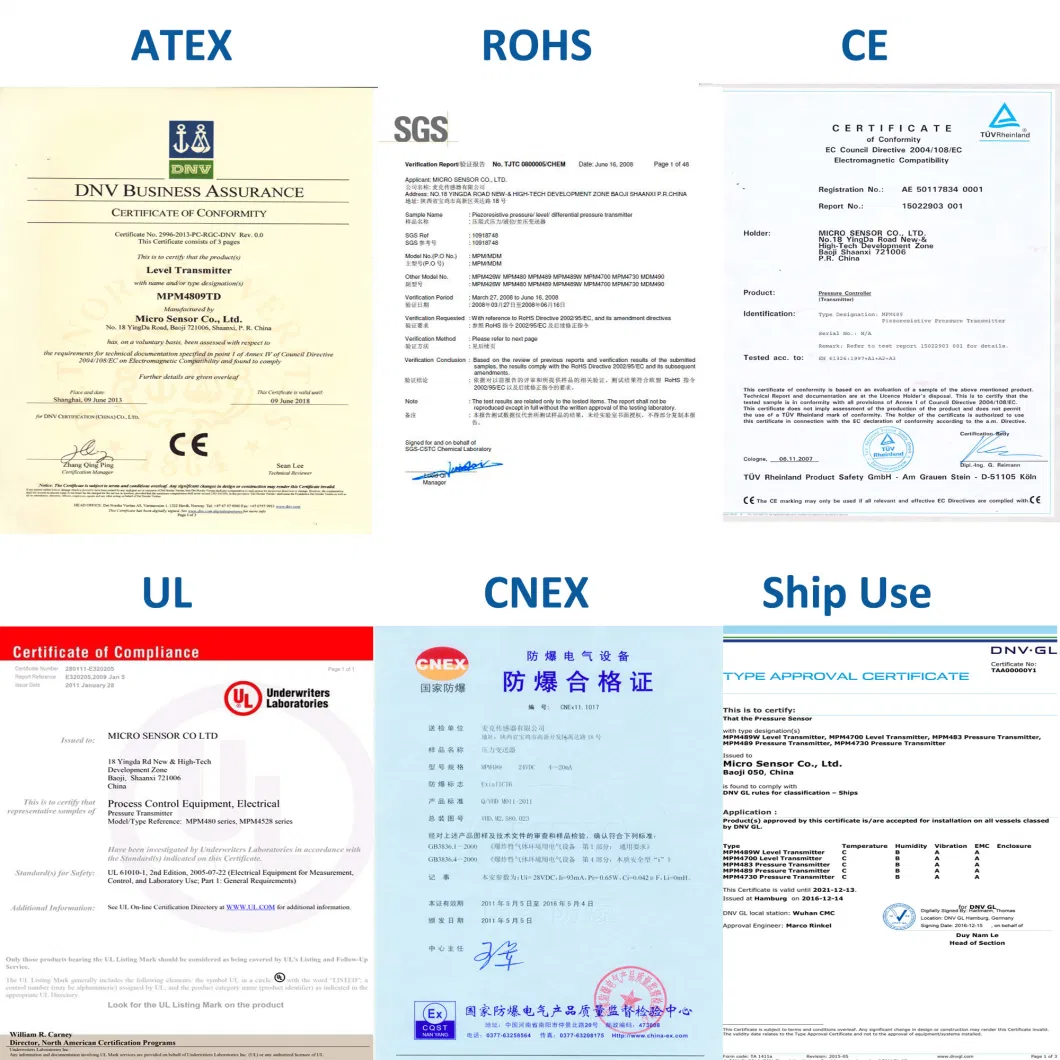 Company Overview




Products Family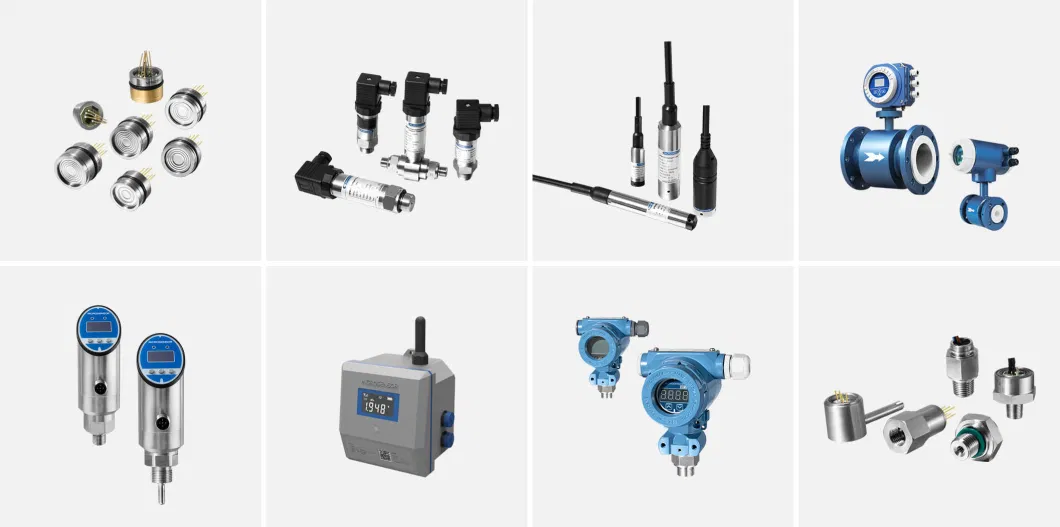 FAQ:
1. Q: Are you manufacturer or trading company?
A: We are 48-year professional manufacturer of Pressure/ Level/ Temperature/Flow transmitters with 4~20mA, Hart, Rs485 & Modbus protocols, pressure sensors with SDI, I2C, 4~20mA, 0.5~4.5V and etc, and wireless IOT measurement transmitters. We provide high quality products with high competitive factory price.

2. Q: What's your quality control system?
A: As an ISO9001:2008 certificated manufacturer, we have strict quality control system, and each product is done fatigue testing, calibration, temperature compensation before shipment. High quality is guaranteed.

3. Q: Is there MOQ with your product?
A: We have no MOQ limits, 1pc for testing is acceptable.

4. Q: Do you provide customized products?
A: Yes, we can print your logo on our products; OEM, ODM & customization are welcomed.

5. Q: What is the warranty of your products? And after-sales service?
A: Our warranty time is 12 months after shipment, and our after-sales will respond with your questions in 24hrs, remote instruction by PC network is always available.

6. Q: What is lead time of your product?
A: We are factory, our lead time is always within 10~15 working days for products without customization, but lead time will vary based on different products. You can check detail lead time with our sales.

7. Q: What international certificates do you have for your products?
A: we have CE, RoHS, UL, ATEX as well as ship-use DNV etc.