Processing equipment, manufacturing equipment, and machine drive systems require reliable, high-power performance Miniature Right Angle Drives. Providing this level of performance in a right-angle transmission gearbox requires high precision gears as well as quality materials and construction.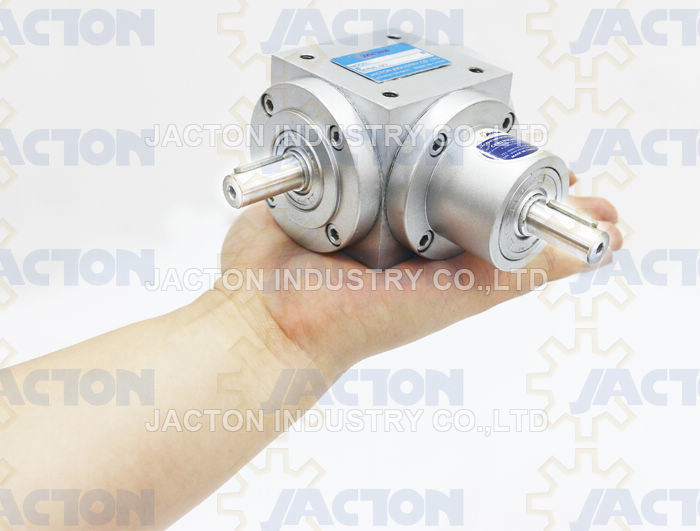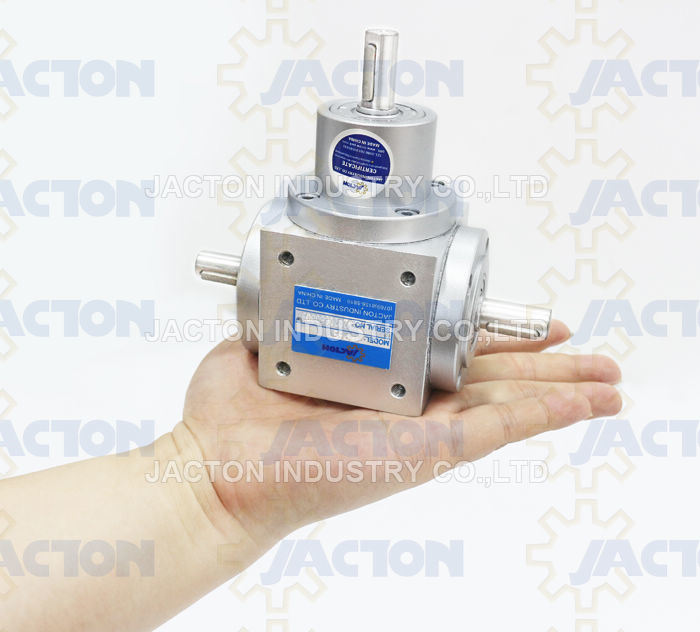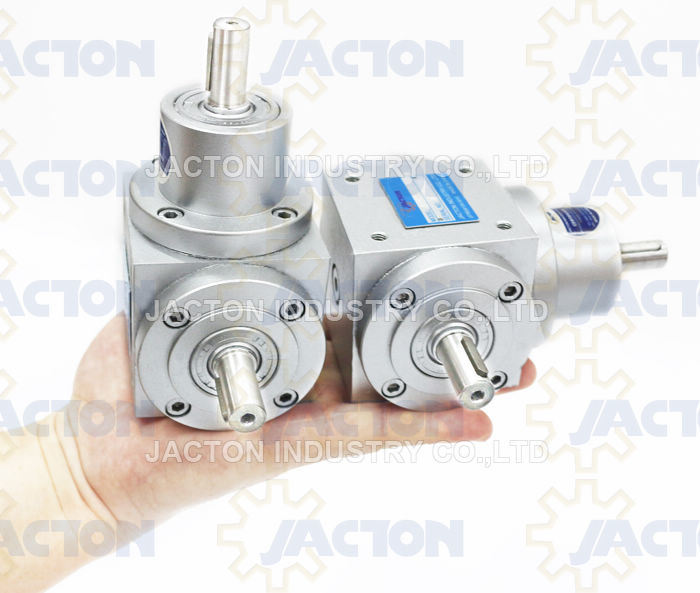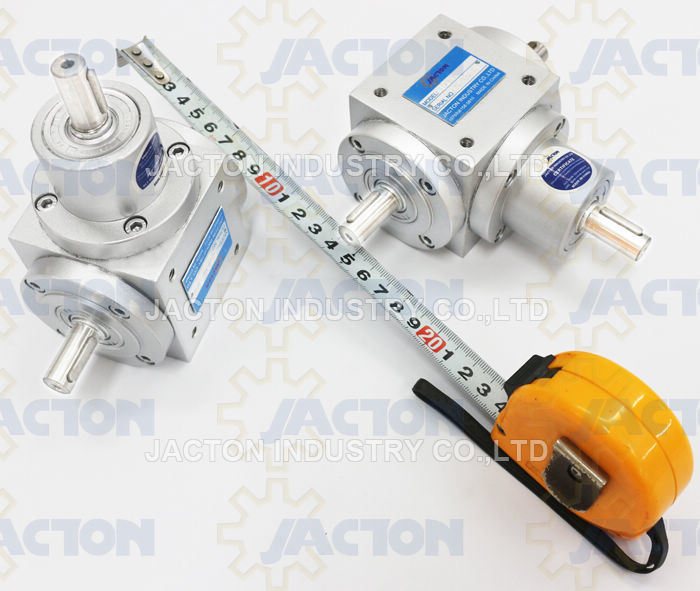 Miniature Right Angle Gearbox Features:
* Structures: spiral bevel gears, housing, input & output shafts, bearings, seals
* Gearbox Dimensions: 65 mm*65 mm*65 mm square
* 1:1 Ratio
* Cast Iron Housing
* Horizontal Mount, Overhung Mount, Wall Mount
* Single Input & Single Output Shaft
* Single Input & Dual Output Shafts
* Shafts Configurations: 2-way, 3-way, 4-ways as standard
* Input and Output Shaft Dia.: 12 mm, 14mm as standard
* Left and Right Hand Output Shafts
* Clockwise & Counter Clockwise Rotation
* Lubrication: Grease

Specifications
The specifications include bevel gears ratio, input speed, output speed, power rating, and working torque.




Dimension Drawing
Find out front view, side view and top view assembly drawings. About 2D Autocad dwg, dxf assembly drawings, and 3D stp, step, model, igs, prt or catpart assembly drawings, please contact us directly.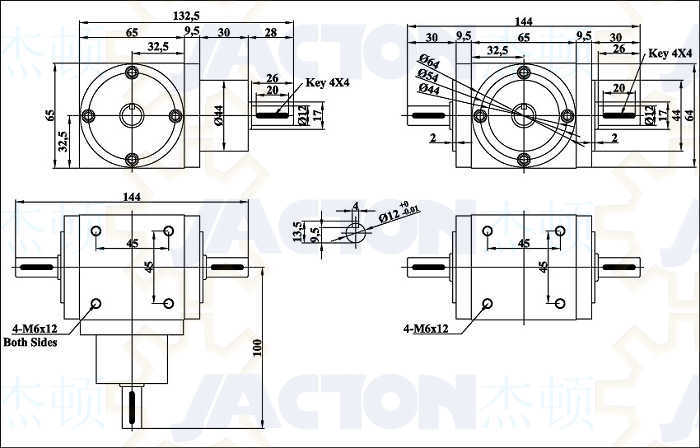 Shipment and Packing Pictures
Shipping:
1. Ocean freight: seaport to seaport, price terms CIF, FOB, EXW, CFR etc.
2. Air freight: airport to airport, price terms EXW, CRF etc.
3. Air courier: DHL, FEDEX, UPS, TNT door to door shipment, price terms DDU, CPT etc.

Packing:
100% standard exporting plywood cases.
Note: International Exporting Standard Wooden Material with Free Fumigation.




JACTON Advantages
1. International standard materials for All JACTON brand products. We insist on choosing brand suppliers to supply the high quality raw materials to control the producing process. Optimization constantly the production processes, inspecting in each link and managing production site.
2. 100% quality assured with double quality inspections. The quality inspection by quality inspectors from processing to finished products as the first time. Before packing, the corresponding sales engineers must inspect the orders following the paper drawings, order quantities and special markings in the invoice or sales contracts as the second time. After that, fill in the inspection report with signature and company stamp.
3. 100% safety transportation. Packing with strong standard export plywood cases materials (free fumigation), inner packing with epe foams to prevent products swaying and outer packing with iron sheets and fasteners to fasten the packages.
4. Internationl sales engineers have professional knowledge and skills on our standard products and service. They have enough ability to solve the basic technical problem immediately whatever by phone, online chat, face to face communications.
5. All the standard products with 2D CAD Drawings (PDF, DWG and DXF formats), and 3D CAD Models (STEP, STP, MODEL, IGS, PRT and CATParT formats).
6. Custom design available, OEM service available, Free engineering advice, Free quotes available and Customer label available.
7. Inspection equipments include motor with inverter drive system, height adjustmemt motorized lifting system, coordinate measuring machines, outside micrometers, inside micrometers, depth calipers, vernier calipers, digital calipers, hardness testers, digital noise meters, industrial infrared thermometers, digital speed measuring instruments, digital multimeters, and high precision clamp digital ammeter etc.
8. Processing with modern advanced machines such as CNC gear hobbing machines, CNC flank grinding machines, CNC cylindrical grinding machines, multi-axis CNC milling machines, CNC lathes and others equipments.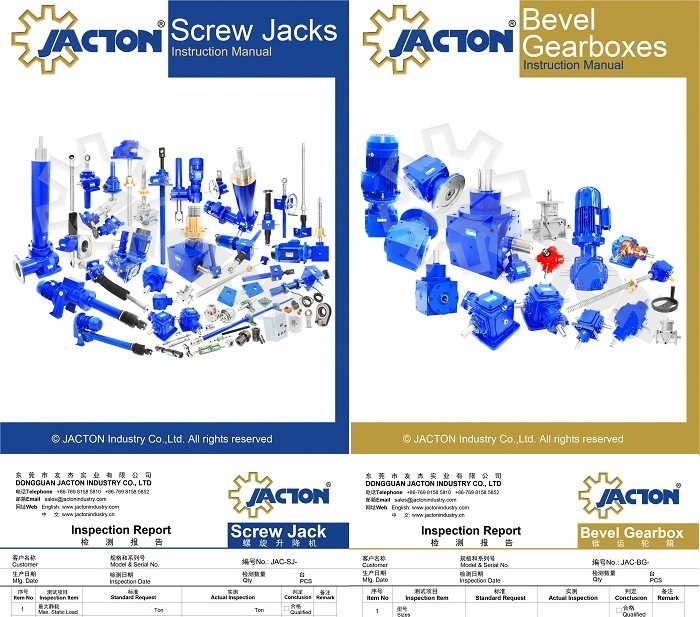 Finished Projects
1. Theatrical solutions stage and orchestra platform lifts projects. Customers are from France, Australia, Netherlands, United Kingdom, Spain and Canada.
2. Hydroelectric power station projects and water conservancy projects. Customers are from Vietnam, Australia, Malaysia, Russian Federation, Nepal, Pakistan, Belgium, United States and United Kingdom.
3. Aircraft maintenance platforms and docking systems projects. Customers are from Pakistan, Singapore and United Arab Emirates.
4. Solar panel tracking system projects. Customers are from Spain, India and Canada.
5. Bolted steel storage tanks and silos lifting solutions. Customers are from South Africa, United States, Mexico, Russian Federation, Brazil and Vietnam.
6. Dish antenna elevation and azimuth positioning projects. Customers are from Singapore, Malaysia and United States.
7. Railway wagon projects. Customers are from South Africa.
8. Beverage can production lines. Customers are from Netherlands, United States, Thailand and Indonesia.
9. Steel factories production lines. Customers are from Iran, United States and Turkey.
10. Continuous PU sandwich panel production lines. Customers are from Thailand and United Kingdom.




JACTON Customers Areas(Countries)
1. American Countries: United States, Mexico, Canada, Chile, Bolivia, Brazil, Colombia, Dominican Republic, Honduras, Costa Rica, Panama, Puerto Rico, Jamaica, Trinidad and Tobago, Aruba, Argentina, Peru, Venezuela.
2. European Countries: Russia, Germany, Turkey, France, United Kingdom, Italy, Spain, Ukraine, Poland, Romania, Netherlands, Belgium, Greece, Czech Republic, Portugal, Sweden, Hungary, Belarus, Austria, Switzerland, Bulgaria, Denmark, Finland, Slovakia, Norway, Ireland, Croatia, Georgia, Armenia, Lithuania, Slovenia, Estonia, Cyprus, Luxembourg, Iceland.
3. Asian Countries: Malaysia, Indonesia, Singapore, Pakistan, Philippines, Vietnam, United Arab Emirates, Thailand, Saudi Arabia, Iran, Turkey, India, Nepal, Yemen, Taiwan, Sri Lanka, Israel, Jordan, Kuwait, Qatar.
4. Oceanian Countries: Australia, New Zealand, Fiji.
5. African Countries: South Africa, Egypt, Ethiopia, Nigeria, Kenya, Tanzania.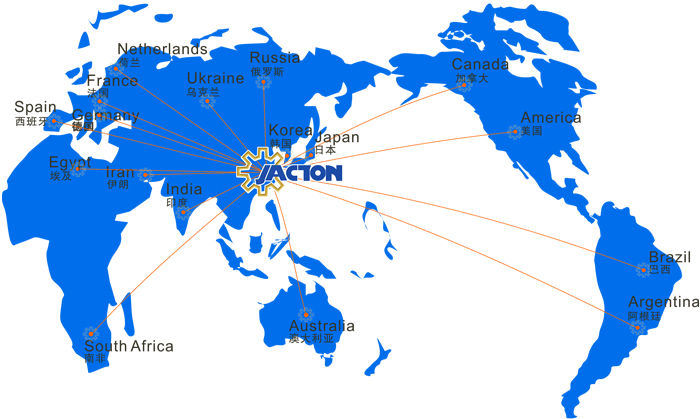 JACTON Products List
1. Manual Worm Gear Screw Jacks, Electric Worm Gear Screw Jacks.
2. Worm Gear Screw Jacks Series: JT series acme screw jacks, JTC series cubic screw jacks, JTW series machine screw jacks, JTM series worm screw jacks, JTB series ball screw jacks, JTD series cubic ball screw jacks, JSS series stainless steel screw jacks, JTS series bevel gear screw jacks, Non-standard series screw jacks.
3. Spiral Bevel Gearboxes Series: JT series bevel gearboxes, JTP series cubic bevel gearboxes, JTA series aluminum bevel gearboxes, JTH series hollow shaft bevel gearboxes, BSS series stainless steel bevel gearboxes.
4. Screw Lifting Systems and Systems Accessories: two-jacks systems, three-jacks systems, four-jacks systems, six-jacks systems, eight-jacks systems. Accessories cover couplings, universal joints, cardan shafts, connecting shafts, electric motors, geared motors and reducers, hand wheel with crank handles, pillow block bearings, flange block bearings, rod end bearings, stop nuts, limit switches, safety nut, travel nuts, linear shafts and bearings, linear guides and bearings, telescopic spring covers, bellows boot, protective tube, trunnion adapter plates, trunnion mounting brackets, motor flanges, rotary encoders, potentiometers, frequency inverters and position indicators etc.
5. Heavy Duty Linear Actuators Series: Parallel heavy duty linear actuators, In-line heavy duty linear actuators.
6. Geared Motors and Speed Reducers Series: helical gearmotors R series, helical bevel gearmotors K series, parallel shaft helical gearmotors F series, helical worm gearmotors S series, small AC gear motor series and worm gear motor reducer series.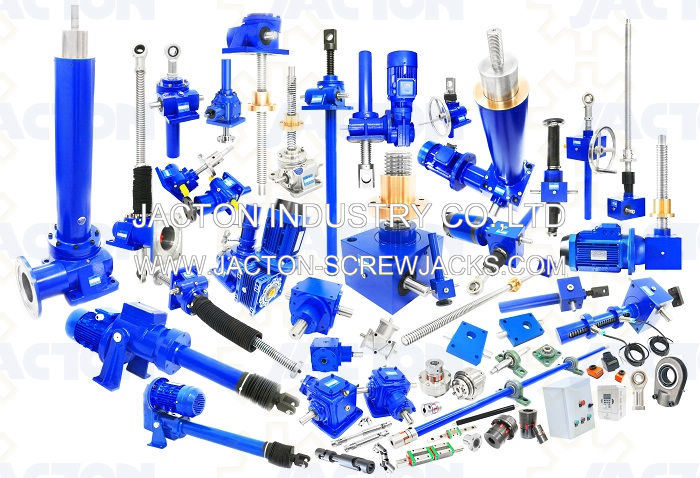 Contact Information
Dongguan JACTON Industry Co.,Ltd (VAT No.: 9144190007026567X3, registered Capital 500000CNY) is a leading manufacturer and supplier of screw jacks (mechanical actuators), bevel gearboxes, lifting systems, linear actuators, gearmotors and speed reducers, and others linear motion and power transmission products in China. We are Alibaba, Made-In-China and SGS (Serial NO.: QIP-ASI192186) audited manufacturer and supplier. We also have a strict quality system, with senior engineers, experienced skilled workers and practiced sales teams, we consistently provide the high quality equipments to meet the customers electro-mechanical actuation, lifting and positioning needs. JACTON Industry guarantees quality, reliability, performance and value for today's demanding industrial applications.
Website (English): screw-jacks.en.made-in-china.com
Website (English): screw-jacks.en.made-in-china.com
Website (Chinese): screw-jacks.en.made-in-china.com