825r16 Chinese Dump Truck Tire off Road Tire Radial Tire
Our tire main features
-Low noise/great traction/low fuel consumption.
-Suitable high speed rate provides safe handling performance.
-Excellent drain ability and grasp ability on wet ground.
-Compatibility technology of high performance ensuring accurate operation.
DOT, ECE, S-MARK, REACH, GCC, INMETRO, SONCAP.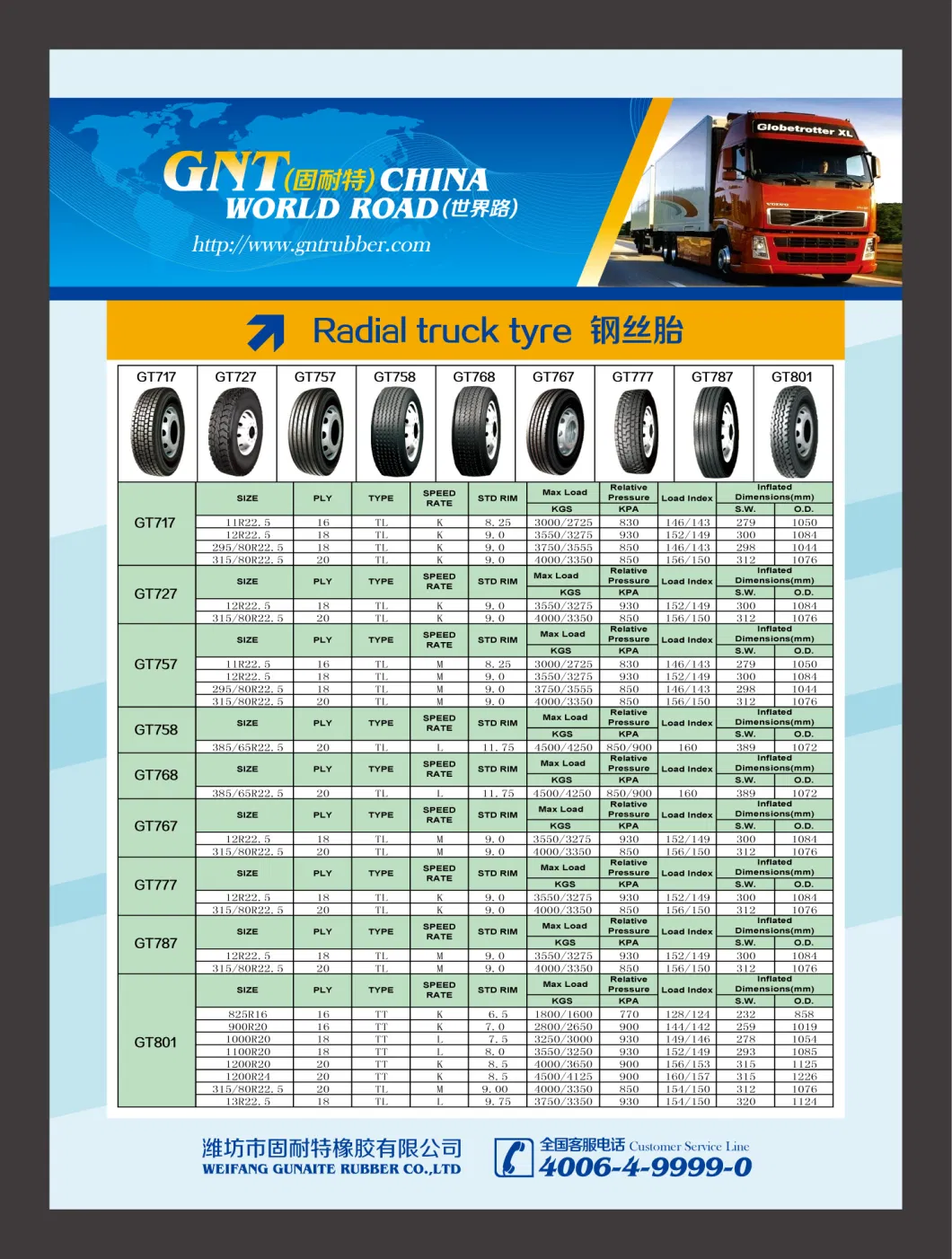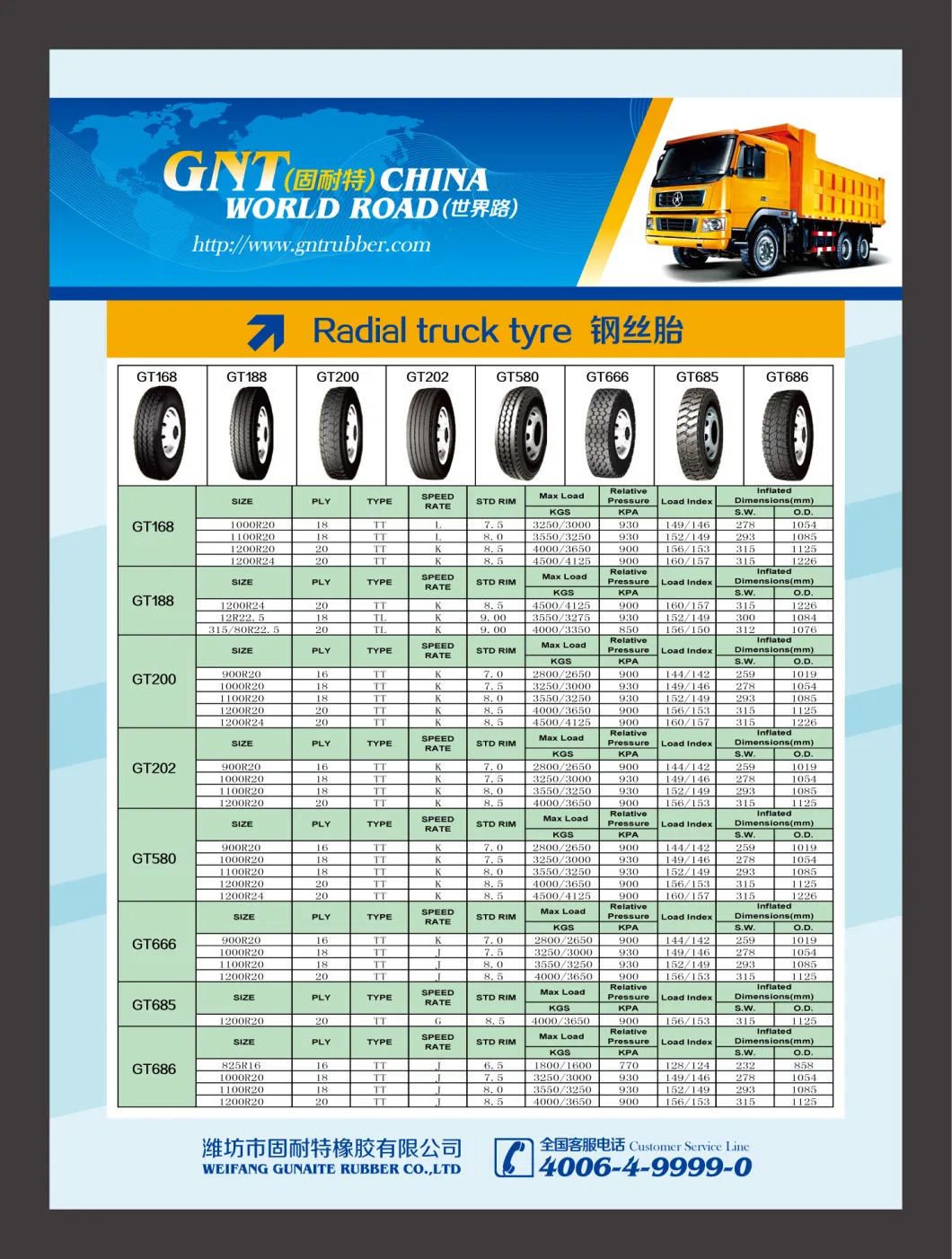 Our advantages
A. Years of experiences, we have good cooperation with clients from over 80 countries.
B. Excellent quality feedback.
C. We are professional in import & export procedures.
D. We have long term flexible payment terms and strategic marketing support.
E. Complete policies in Warranty and After-sale service.
TECHNICAL PARAMETER OF RADIAL TRUCK TYRES
Size
Pattern
Ply Rating
Load Index
Speed Rating
Standing Rim
Tread Depth
Inflated Measurements of new tyre
Pressure (kpa)
Loading QTY
inch
mm
SW.
0D.
Kpa
PSI
40HQ
7.50R16
RBK01
14
122/118
L
6.00G
13.0
215
805
770
-
-
8.25R16
RBK01
16
128/124
K
6.50H
13.0
235
855
770
-
-
RBK68
16
128/124
K
6.50H
14.5
235
855
770
-
-
215/75R17.5
RBK11
14
135/133
J
6.00
12.0
222
761
860
125
-
D801
16
127/124
K
6.00
15.0
211
767
830
-
-
9.00R20
RBK01
16
144/142
K
7.00
15.5
259
1019
900
131
-
10.00R20
RBK01
18
149/146
K
7.50
16.0
278
1054
930
135
280
RBK68
18
149/146
K
7.50
18.0
278
1054
930
-
280
D801
18
149/146
K
7.50
20.0
278
1054
930
-
280
11.00R20
RBK01
18
152/149
K
8.00
16.5
293
1085
930
135
256
RBK03
18PR
152/149
K
8.00
16.5
293
1085
930
135
256
D608
18
152/149
J
8.00
18.5
293
1085
930
-
-
12.00R20
RBK01
20
156/153
K
8.50
17.5
315
1125
900
131
228
D608
20
156/153
J
8.50
19.5
315
1125
900
-
-
11R22.5
RBK11
16
146/143
M
8.25
14.5
279
1052
830
120
270
RBK05
16
146/143
M
8.25
14.5
279
1050
830
120
270
RBK01
16
146/143
M
8.25
14.5
279
1054
830
-
270
D801
16
146/143
K
8.25
20.0
279
1054
830
-
270
RBK88
16
146/143
K
8.25
20.0
279
1050
830
120
270
12R22.5
RBK05
18
152/149
M
9.00
15.0
300
1084
930
135
245
RBK01
18
152/149
M
9.00
15.0
300
1084
930
135
-
D270
18
152/149
M
9.00
118.0
300
1075
930
-
-
RBK81
18
152/149
K
9.00
20.0
300
1084
930
135
-
13R22.5
RBK01
18
154/151
L
9.75
15.0
320
1124
830
120
228
RBK82
20
156/150
G
9.75
15.0
320
1124
875
127
226
385/55R22.5
RBK11
20
160
L
12.25
14.5
389
1072
900
131
206
385/65R22.5
RBK11
20
160
L
11.75
14.5
389
1072
900
131
194
RBK75
20
160
L
11.75
15.5
389
1072
900
131
194
RBK76
20
160
L
11.75
15.5
389
1072
900
131
194
315/70R22.5
D801
20PR
154/150
L
9.00
20.0
312
1014
900
-
250
RBK11
20
154/150
M
9.00
15.0
312
1014
900
131
250
295/75R22.5
RBK11
18
152/149
M
9.00
14.5
298
1044
830
120
280
RBK05
18
152/149
M
9.00
14.5
298
1044
830
120
280
RBK88
16
146/143
K
9.00
20.0
298
1044
830
120
280
295/80R22.5
RBK11
16
146/143
M
9.00
15.0
298
1014
830
120
250
RBK05
16
146/143
M
9.00
15.0
298
1014
830
120
250
RBK01
18
152/149
M
9.00
15.0
298
1044
900
131
250
D801
18PR
152/149
K
9.00
20.0
298
1048
900
-
250
RBK82
18
152/149
K
9.00
20.0
298
1014
830
120
250
315/80R22.5
RBK11
20
156/150
M
9.00
15.0
312
1076
850
123
240
RBK05
20
156/150
M
9.00
15.0
312
1076
850
123
240
RBK06
20
156/150
M
9.00
15.0
312
1076
850
123
240
RBK01
20
156/150
M
9.00
15.0
312
1076
850
123
240
RBK82
20
156/150
G
9.00
20.0
312
1076
850
123
240
D801
20PR
156/150
K
9.00
20.0
312
1076
850
-
240
RBK97
20
156/150
K
9.00
18.0
312
1076
850
123
240
RBK98
20
156/150
K
9.00
18.0
312
1076
850
123
240
RBK96
20
156/150
K
9.00
18.0
312
1076
850
123
240
12.00R24
RBK01
20
160/157
K
8.50
16.0
315
1226
900
131
190
RBK99
20
160/157
K
8.50
16.0
315
1226
900
131
190
RBK08
20
160/157
K
8.50
16.0
315
1226
900
131
190
S902
20
160/157
K
8.50
16.0
315
1226
900
-
190
S903
20
160/157
K
8.50
16.0
314
1222
900
-
190
HIGH QUATITY RBK08
11R24.5
RBK11
16
149/146
M
8.25
14.5
279
1104
830
120
254
RBK05
16
149/146
M
8.25
14.5
279
1104
830
120
254
RBK88
16
149/146
K
8.25
20.0
279
1104
830
120
254
285/75R24.5
RBK11
16
147/144
M
8.25
14.5
283
1050
830
-
-
RBK05
16
147/144
M
8.25
11.0
283
1050
830
-
-
RBK88
16
147/144
L
8.25
20.0
283
1050
760
-